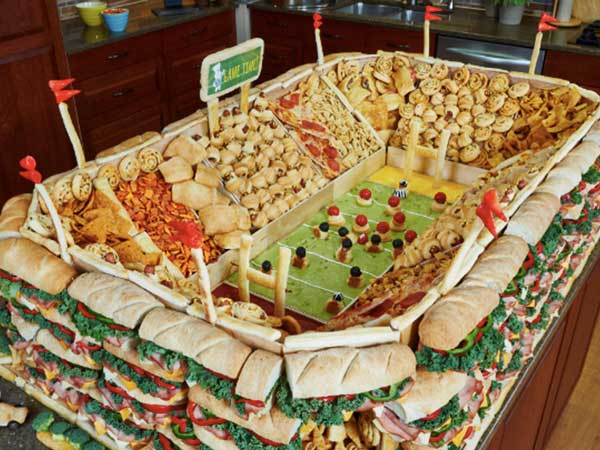 Face it.  You're in good company — among the tens of thousands who don't hold tickets to Super Bowl XLVIII, the football event of the year. So while MetLife Stadium in East Rutherford, N.J., is packed to the hilt with screaming fans Sunday, yelling for either the Denver Broncos or the Seattle Seahawks, you're stuck with hosting an at-home version.
Last year, some 108 million people watched the Super Bowl in settings ranging from posh parties (entry fees ranging from $200 to $2,000 each) to home theater TV rooms or the local sports bar.
Whatever suits your fancy, if you find yourself the host and/or hostess to the gang, make it easy on yourself.  Don't let the decorations, goodies and clean-up take precedence over the game.  If all you score is a colossal headache by Sunday night, you'll have defeated the whole purpose.
Delegate
First of all, get help. Enlist other enthusiasts in your group to share in the chores. Gather at the largest available home and divide out the food. This is one of those occasions when potluck can work. If you fear too much overlap, keep a sign-up sheet so you don't end up with twenty bags of chips and no dip.  Otherwise, pre-assign items that  are easy on the budget and on the preparation.  Sideline fussy dishes with lots of ingredients.  Buy with coupons and buy in bulk.  Inexpensive snacks such as pretzels, chips and nuts help satisfy appetites before, after and even during the big meal.  The idea is to enjoy the munchies while enjoying the game.
Pizza Deals
Pizza is popular and when it's Super Bowl time, many of the well-known outlets have special deals that let you feed a crowd without breaking the bank.  A few of the online deals being advertised include: Dominos: Choose any two or more two-topping medium pizzas for $5.99 each. Or eight pieces of chicken, an oven-baked dinner or stuffed cheesy bread, also at $5.99.  Papa John's, which is noting its 30th anniversary, has a large one-topping pizza for only 30 cents with the purchase of a large pizza at the regular menu price.  The chain also has an online coupon, code pjmvp that allows you to order $15 or more online and get a free three-topping pizza.  Pizza Hut has a deal that gives you two medium two-topping pizzas and two sides (or a third medium one-topping pizza) for just $19.99. As kickoff approaches, the deals are changing faster than a chalkboard game plan, so check with Living on the Cheap's Dining Page before you make up your mind.
Dishwashing
Used to be paper plates, cups and other items saved money. But prices for these paperware items have soared in the past few years. Use your own dishes if you have enough to go around. Have guests bring their own,  if necessary. You may gain in dish washing what you lose in savings on purchases, but refer back to suggestion No. 1 above. Share the chores.
Dollar Stores
The neighborhood dollar store might surprise you with the number of items you could pick up for decorating. A few pompoms and streamers can go a long way. Of course if you're partial to either of the competing teams, focus on the colors that suit.  That would be orange and blue for the Broncos, blue and lime green for the Seahawks.
Make It Easy
Most of all, remember rule No. 1.  Make it fun and easy. Don't tackle more than you're game for, and keep some perspective as  you cheer for your team. There will always be a Super Bowl XLVIX.
Bonus Recipe
This is one of the easiest recipes to make that people just love. It serves 6 to 8 people and is very filling. Certainly enough for a meal.
Cheesy Vegetable Chicken Soup
2 cups chopped broccoli
4 cups cubed potatoes
2 cups sliced carrots
2 cups diced celery
1 1/2 cup chopped onions
4 cups sater
6 chicken bullion cubes
Boil the above ingredients in a large covered pan for 20-30 minutes. Drain off most of the water.
3/4 c. flour
1 cube of butter
3 cups of milk
dash of white pepper
1 lb. of Velveeta cheese
3 cans cedar cheese soup
4 cooked chicken breasts – cut into small pieces
Mix everything but the chicken together in a frying pan. Stir constantly on medium heat until soup like consistency. Add chicken. Pour into vegetable mixture. Keep warm in crock pot. Enjoy your Superbowl Sunday party!