College Checks


Louisiana State University Personal Checks
Page 1 of 1
2 Louisiana State University Designs Found
View:
Louisiana State University Checks Celebrate Your Tigers Spirit. Share with others your Louisiana State University pride with our LSU checks from Value Checks. You'll find three unique check designs which display the LSU logo, the bold purple and gold colors as well as the word "Tigers" written on the background several check designs. All designs help you remember the Tiger spirit.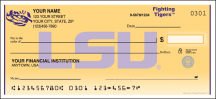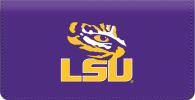 LSU Logo Personal Checks For Football Fans
You'll find these Louisiana State University personal checks are just as practical as they are supportive. Brought to you by Value Checks, checks are created with premium-quality check printing. It's never too late to show your LSU Tigers pride. Order your Louisiana State University personal checks soon! Matching checkbook covers and address labels are sold at low prices so take some time and order now!
Thank you for shopping at Value Checks where you can order cheap checks and get a great bargain!