College Checks


University Of Alabama Checks
Page 1 of 1
2 Alabama Designs Found
View:
Alabama Checks celebrate the University of Alabama's football team. With the school colors of Crimson and white, the University of Alabama's football team has won 26 Southeastern Conference (SEC) championships and accepted 16 national championships. Sports Illustrated magazine has named Alabama the No. 26 best collegiate sports program in America. Show your Bama spirit when you order Alabama checks, checkbook covers and address labels.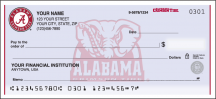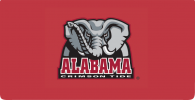 University of Alabama Played In Many Bowl Games
As a tribute to the coaches and football players of the Alabama Football team, the team was able to play in the Rose Bowl and the Sugar Bowl with a total of 56 Bowl games. Heisman Trophy awards were given to two famous football players, Mark Ingram and Derrick Henry. Show your passion for the Alabama football team by choosing Alabama personal checks the next time you need checks.
Many of our personal checks come in the popular side tear checks or the popular top stub checks formats. As always, we give you rock bottom prices for our cheap checks online. All you need is your checking account number and your routing number and you are set to buy your checks.