Designer Checks


Map Checks
Page 1 of 1
2 Map Designs Found
View:
Map Checks Inspire Global Appeal. Maps have been fascinating the world since Mercator did his thing - and probably before. There is pure fascination in locating spots of interest, or merely browsing to see how things all fit together on this old globe. In this collection of personal checks, there are check designs that shows maps of the world and another that focuses on the geography and history of North America.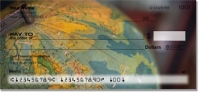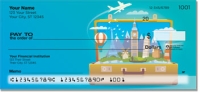 Map Checks Capture The Layout Of Our World
The antique global maps that were the forerunners of today's detailed depictions make up another set of map check designs. Famed expeditions are tracked in second set of check designs, while weather is juxtaposed on the geography in another. If you are taken with the endless quest for knowing where and when things took place in this world, you'll want to keep map checks easily accessible.
Thank you for shopping at Value Checks where you can order cheap checks and get a great bargain!